Last Update December 24, 2019
___________________________________________________________________________________
Firefighter Joe Rahl - 1986
Firefighter Joseph Rahl
(1924 - 2019)
We have been notified and are deeply saddened to report the passing yesterday, December 23, 2019, of retired Firefighter Joseph Rahl, 95, who served on the department for 33 years. He was the department's oldest retiree.
Joe began his fire service career on March 12, 1942 as a volunteer firefighter with the Mt. Carmel Fire Volunteer Fire Co. He served as the company's captain from 1947-48, and again from 1954 to 1956, when he was appointed to the career department. He retired in November 1989.
Calling hours are Friday, December 27th, from 5-7 p.m. at Beecher and Bennett Funeral Parlor, 2300 Whitney Avenue, Hamden. As always, department retirees with dress blues are welcome to participate in standing Honor Guard. Services will be held Saturday morning at 11 at Beecher and Bennett, with interment to follow at Centerville Cemetery. Once it is published, a complete obituary will be linked here.

Our thoughts and prayers go out to the Rahl family at this sad time.
Posted 12/24/2019 - 1345 hrs.
___________________________________________________________________________________
Longtime Co. 5 Member Tim Steele Passes Away November 27th
George "Tim" Steele, longtime member of Co. 5, passed away at Evergreen Healthcare in Stafford Springs on Tuesday, November 27th, 2018 with his daughter by his side after a long battle with Parkinson's Disease. Born March 5, 1948 in Yonkers, NY, he grew up in Hamden.
Tin was the son of the late George Donald Steele, also a longtime member and captain of Co. 5 (Navy veteran) and Martha Jane (Linn) Steele, (Marine veteran), who both served during WWII.
Tim joined the fire company on April 28, 1964 and was active in its affairs until moving to Enfield in 1980. He was among the company line officers at the time of the dedication of what is now the Raymond K. Spencer Annex in September 1975. Tim was in the Vocational Agriculture program at, and was a graduate of, Lyman Hall High School in Wallingford. He graduated from UConn in 1969, having earned a degree in Agriculture.
Memorial contributions in Tim's name can be made to The Michael J. Fox Foundation, P.O. Box 5014, Hagerstown, MD 21741-5014 A casual celebration of his life will be held in the company of good friends, neighbors and family at his home. Contact goodduckfarm@gmail.com for information.
Burial will be held at St. Peter's Episcopal Church in the memorial garden on a date to be determined. To leave online condolences, please visit www.Leetestevens.com.
Note: All past Company 5 obituaries are now archived on the new "REMEMBERING" page, available in menu above.
___________________________________________________________________________________

Eighteen Years Later

We will always remember our brother firefighters who made the supreme sacrifice, and the thousands of other innocent victims who lost their lives eighteen years ago on September 11, 2001.

Always keep them, their families and the FDNY in your thoughts and prayers.



To bring our members and web followers up to date:
June 2014 - Re-elected were Capt. Russ Olson, and Lieutenants Tom Corbett and Mark Guarino.
2015 - Dan Brown was appointed a career member of the New Haven Fire Department. Dan is assigned on Engine 10 at East Battalion Headquarters on Lombard Street in the Fair Haven section of the City, where Engine 10, Truck 3 and Car 33 are stationed.
June 2015 - Tom Corbett and Mark Guarinio were elected to serve as co-captains, filling the
vacancy left by Russ Olson, who was appointed a career member of
the Waterbury Fire Department later in
2015. Pete Nizen was elected to fill the remainder
of
Dave Johnson's term as secretary. Johnson will serve as assistant secretary.
June 2016 - Line Officers elected: Tom Corbett and Mark Guarino, co-captains; Pete Nizen, lieutenant/foreman. Administrative Officers elected: Mark Guarino, president; Pete Nizen, vice president and secretary; Sue Guarino, treasurer.
Posted 2/2/2017
_____________________________________________________________________________________________________
_____
_____________________________________________________________________________________________________
_____
New Kitchen for Station 5!
Old Walls Became Accidental Time Capsule
The building, built and paid for by the Mt. Carmel Volunteer Fire Co., opened in 1926. Career personnel have been stationed there ever since. But it wasn't until the late 1970s that one of the upstairs bedrooms at Station 5 was converted into a real kitchen. Now, after nearly four decades, it was clearly time for a new kitchen, also paid for by the volunteer company.
Some relics of historical interest
were revealed during demolition
of the old kitchen/bedroom walls two weeks ago. First, was the discovery of many old newspapers dating from 1935 to 1937 tucked away within the exterior walls, presumably an
attempt at insulation. Second, was the discovery of a doorway, long since covered up, that once connected the kitchen area (when it was a bedroom) with the adjacent bedroom, which was expanded into a much lareger bunkroom when the kitchen was built in the late 1970s.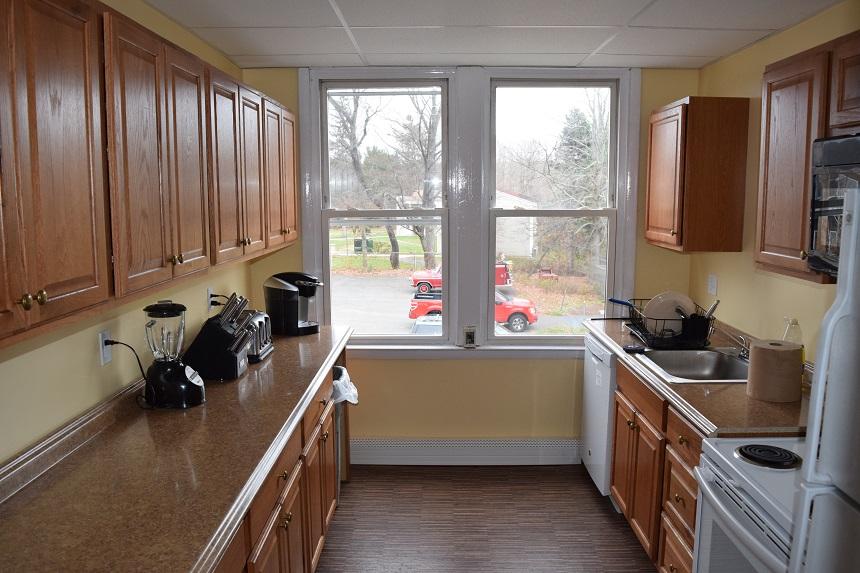 The finished product!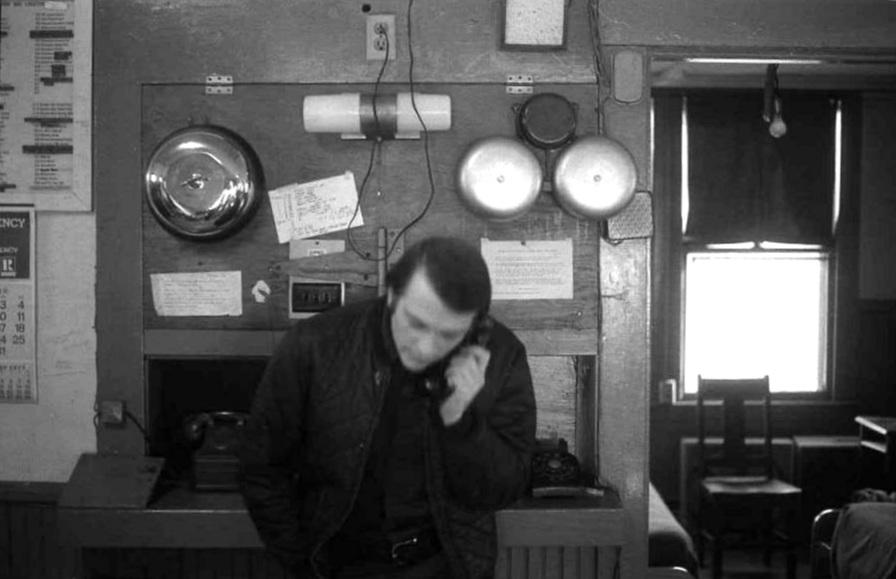 The wall opening to the left of George allowed the firefighter in the lefthand bedroom to reach the house phone at night.
This 1978 photo of Firefighter George Edwards talking on the PBX phone to the Alarm Room, was taken just before the inner bedroom (background - right) was converted into the kitchen. To the left of that room was another bedroom of about the same size. The opening in the wall behind George allowed the firefighter in the outermost bedroom to reach out to answer the house phone at night.
When the station was a two-man house, each firefighter had his own room. Once Truck 1 was transferred to Station 5 in 1976, two firefighters occupied each bedroom. Two bunks can be seen in the bedroom behind George.
The obvious need for a kitchen and more room for additional bunks for personnel resulted in the late '70s conversion of the inner bedroom into a kitchen and the expansion of the outermost bedroom into a four-bunk facility. Today, the south wall of the bunkroon is right about where George is standing.
The alarm bells on the wall and the red "house phone" on the shelf behind George were moved to the south wall of the "new" bunkroom. The old 3-slot pay telephone that was mounted on the wall to the left of the calendar (just out of view), was removed and a regular residential rotary dial telephone was installed.
An old doorway to the adjacent bedroom area can been seen to the right of the kitchen door. This doorway was long gone by the 1950s. It was probably removed during the late 1930s when the newspaper "insulation" was crammed in the bays between the studs of the exterior walls.
Also discovered inside the walls were two modest storage areas that may have provided a minimum of closet space for the early personnel.
When the station opened in January 1926, Al Purce was the driver. He was succeeded by Everett Doherty. They both worked a 168 hour workweek. Time off for early paid firefighters was courtesy of call men, or "substitutes," who were qualified to take their places when they wanted a day off now and then.
The workweek was cut to 84 hours in the 1930s and remained so until 1948, when it was cut again to 67.5 hours. Firefighters achieved a 56-hour workweek in 1951 that lasted until October 1970, when the current 42-hour workweek was adopted.
Eighty year-old newspapers found during kitchen demolition.
A couple of Co. 5 members demolished the kitchen walls last weekend in preparation for a complete renovation which took place during the week. All of the exterior bays between the 2x4 studs were crammed with local newspapers dated between 1934 and 1937, suggesting that some kind of renovation to that area of the fire station
took place when the building was eleven years old.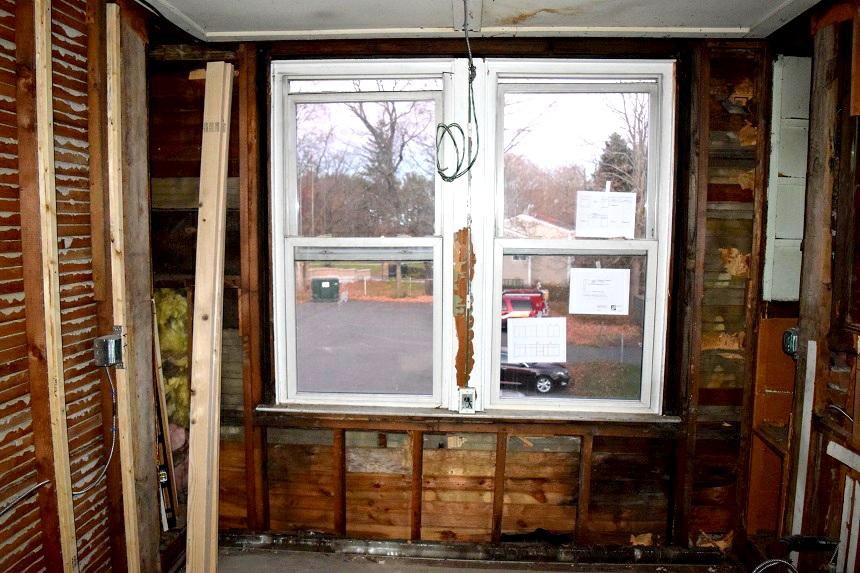 Studs exposed for new drywall. Some remnants of ancient newspapers, apparently used for insulation, can be seen in some of the bays between the studs.
The newspapers apparently were used for insulation. A few of the newspapers - very few - remained intact and quite readable eighty years later (see photo below).
More photos next week, and a possible answer to what changes were made to the upstairs c. 1937.
_____________________________________________________________________________________________________
_____
Welcome!


Attention Co. 5 members, past & present:

Please email JPGs of your photos
depicting Co. 5 activities to

HFDBadge102@aol.com
Or mail your original photos to:

MCVFC Website
P.O. Box 5605
Hamden, CT 06518
We will scan them and mail them back to you within 24 hours of receipt.
_____________________________________________________________________________________________________
_____
_____________________________________________________________________________________________________
_____
COPYRIGHT NOTICE
Unless cited otherwise or in the Public Domain, all material on this website, including all original photos, essays, articles, descriptions and commentary published herein, are © Copyright 2010-18 by the Mt. Carmel Volunteer Fire Co. of Hamden, Connecticut, and may not be copied, republished or transmitted in any form whatsoever without prior written permission of same.
Web Hosting powered by Network Solutions®