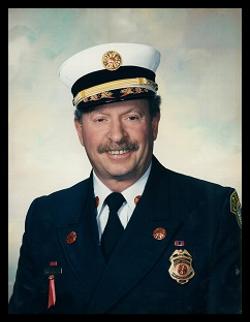 Chief John Tramontano
Chief John Tramontano
(1937 - 2015)
September 9 - It is
with deep regret that we announce the sudden passing of retired Hamden Fire Chief John R. Tramontano last Friday, September 4th, at his home in Gilford, New Hampshire.
Career and volunteer
Hamden fire personnel, all other fire service colleagues
and friends of Chief Tramontano's are invited to a Memorial Service, conducted by members of the Hamden Fire Department in cooperation with the Tramontano family, to be held at Hamden's Memorial Town Hall, Whitney and Dixwell Avenues, on the morning of Saturday, September 19th from 10:00 to 11:00
a.m.
_____________________________________________________________________________________________________
_____
1955 - Ben Feinn (left) on 2-1/2" nozzle
It is with deep regret that we announce the
sudden death
of
longtime Co. 5 member and alumnus Benjamin
Feinn

on Monday, July 14th, in Cheshire, where he
had resided for over fifty years.
Ben was elected to membership in
Co. 5 on August 24, 1954, and
was
an active
firefighting member for many years thereafter,
serving
in the positions of
First Lieutenant and Trustee. Following
his
service as a Captain in the United States Army, Ben resumed his active membership in the fire company.
Ben is survived by his wife of 53 years, Barbara,
and their children; Marjorie and her husband Eric Seggerman
of Cheshire, Fred of Cheshire, Greg of Marco Island, Florida, his three grandchildren; Liana, Rachel, and Katie.
Ben
is also survived by his brother
Robert Feinn of Guilford, who
also served for many years as an active
member
of Co. 5.
Funeral services were held at Temple Beth David, 3 Main St., Cheshire on
Thursday morning, July 17th,
with Interment Services
following
at the Temple Beth David section of Hillside Cemetery, Wallingford Rd., Cheshire. Memorial contributions may be sent to Make-A-Wish Foundation.
Our thoughts and prayers go out to the Feinn family.
(Some of the information posted above was gleaned from the July 16, 2014 edition of The New Haven Register)
Firefighter Joseph Yoga
(1942 - 2014)
May 27, 2014 - We deeply regret to announce the passing of Hamden Fire Department retiree and former Co. 5 member Joe Yoga last

Sunday

morning, May 25th, at Connecticut Hospice in Branford.
Funeral Mass was held on Friday morning, May 30th, at St. Thomas Becket Church in Cheshire
.
Joe started his fire service career in October 1959 as a member of the Mt. Carmel Volunteer Fire Co. No. 5, and was appointed to the career

department in 1965. While attempting
the rescue of a young woman from an apartment fire above the Merryfield Veterinary Hospital on Shepard Avenue, Joe suffered a severe back injury that forced his retirement from the department in 1980.
Following his retirement
, Joe served as a dispatcher for the Cheshire Police Department for twenty-two years.

Joe was an active member of the Hamden Fire Retirees Association and attended all of the 2011 festivities commemorating the 100th anniversary of Co. 5.
.
Our thoughts and prayers are with Joe's wife, Lillian, and the rest of the Yoga family.
Company 5 Alumnus Chris Lewis Promoted to Lieutenant
Lieut. Chris Lewis (center) and crew, Burton Fire District, Beaufort, SC

Chris Lewis, a longtime member and alumnus of Co. 5, has been promoted to Lieutenant in the Burton Fire District of the Beaufort [South Carolina] Fire Department.

Before his appointment to the Beaufort Fire Department in 2009, Chris served eight years in the United States Marine Corps, during which he was deployed several times. During his last deployment to Iraq in 2004, Chris was severely injured in an attack that claimed the lives of six of his brother Marines.

The present and past members of the Mt. Carmel Volunteer Fire Company and the Hamden Fire Department at-large congratulate Lieutenant Chris Lewis, wishing him a long, productive and safe career.

The members of Co. 5 are especially proud that Chris' fire service career started here in Mount Carmel. Thank you for your service to our country, Chris!



Co. 5 and HFD Career Alumnus Howard Hurlburt, Jr. Passes Away in Arkansas
Lt. Howard Hurlburt, Jr.
Lieutenant Howard Hurlburt, Jr.
It is with deep regret that we announce the passing of retired Hamden Fire Department Lieutenant/Paramedic Howard "Howie" Hurlburt, Jr.
on
Wednesday, November 20th
in Arkansas, where he resided for the last several years.
Howie's fire service career began when he joined the Mt. Carmel Volunteer Fire Co. in 1965. Howie became a member of the career department in 1970 and was one of Hamden's first EMTs the following year. In 1976, Howie was among the first eight Hamden paramedics to be certified. Following a brief stint as the Department's first Mechanic in 1984, Howie was promoted to Lieutenant and was assigned to Platoons 3 and 4 until his retirement in 1993
Howie was from a family with deep roots in Hamden public service. His brother, Clark, a 30-year veteran of the Department, is a retired Deputy Chief. Howie's father, the late Howard Hurlburt, Sr., served on the Hamden Fire Department from 1948 until his retirement in 1981, and later served on the Hamden Legislative Council.
His mother, Nancy, also served on the Council
and
was
Hamden Town Clerk for several years during
the 1980s and 90s.
Our thoughts and prayers are with Nancy, Clark and the rest of the Hurlburt family.
A Memorial Service will take place Saturday, December 7th
Lakeside Lodge, Route 42, Bethany
| | |
| --- | --- |
| | Captain G. Donald "Don" Steele |
October 7, 2012 - It is with deep regret that we
announce
the passing of G. Donald "Don" Steele, 93, on Saturday, September 15th. Don's obituary,
published for the first time in today's New Haven Register, is
pictured
below.
March 1973 - Don with his 1951 Seagrave pumper

Don was an active member of Co. 5 from the early 1960s until well into the 1980s, having served as Captain from 1967 to 1972. Don's son, Tim, was also an active member and company officer during his time with the company.

Don was also very active in other fire service organizations in Connecticut, including

the New Haven County Fire Emergency Plan, of which he was secretary for many years.

Don attended the April 26, 2011 Co. 5 member reunion and the November 11, 2011 Centennial Celebration at the Elks, at which he was one of three World War II veterans presented with a quilt from Quilts of Honor (see photos below).



October 7, 2012 - © 2012 The New Haven Register
| | |
| --- | --- |
| April 26, 2011 - Youngest and oldest. Russ Olson, presently the captain of Co. 5, posed with Don Steele, then 92, who was the oldest living past captain of the company. | At last year's Centennial Dinner, Nancy Olson presented a quilt from Quilts of Honor to WWII veteran Don Steele, who was seated beside his son, Tim. (CLICK to enlarge) |
Co. 5 Captain Find C.C. Pedersen

Former Co. 5 Captain Find C.C. Pedersen

We regret to report that we have received word from Anders Pedersen that his brother, Find, passed away on March 26, 2012 at Andy's home in Maryland after a lengthy illness.

Find C.C. Pedersen, Jr. joined Co. 5 in March 1951 and was Captain from 1959-61 and again from 1962-66. He remained an active member until 1969, when he left Hamden to become a teacher in the Tolland, Connecticut school system. Find joined the Tolland Volunteer Fire Department and soon became president of the association.

Find was a great guy who was an important leader in the company during the 1950s and 60s.

Find was predeceased by his wife, Sandy, in 2006. Our condolences go out to Andy and the rest of Find's family.



| | |
| --- | --- |
| CLICK on above photo for more photos | |
Company 5's Member Reunion
The 1975 addition to Station 5
has been named the
Raymond K. Spencer Memorial Annex.
(CLICK on photo to read details)



Ray Latini (center), flanked by Dave Johnson and Karl Olson at the Sept. 10, 2011 Engine 260 Muster (Photo by Nancy Olson)

FOUND: Former Mt. Carmel Volunteer Fire Co. president and secretary, Ray Latini!

Ray was attending his first Engine 260 Muster in Milford when he was spotted by Karl Olson. We had been trying to locate Ray since late last year.

Ray was very active in company affairs from the mid-1970s until the early 1980s and served as company secretary and president. He was happy to hear of the Centennial Celebration and plans to attend the November 11th Centennial Dinner at the Elks.



| | |
| --- | --- |
| On Saturday, May 5, 1973, members of Company 5 attended live fire training at the New Haven Fire Department training ground on Hamilton Street. Ed Doiron took a number of photos that day. CLICK on the group photo at the right to view Ed's photos, posted on the Hamden Fire Retirees' Assn. website. | May 5, 1973 - New Haven Fire School on Hamilton Street |
COPYRIGHT NOTICE
Unless cited otherwise or in the Public Domain, all material on this website, including all original photos, essays, articles, descriptions and commentary published herein, are © Copyright 2010-17 by the Mt. Carmel Volunteer Fire Co. of Hamden, Connecticut, and may not be copied, republished or transmitted in any form whatsoever without prior written permission of same.
Web Hosting powered by Network Solutions®