1912 Wirt & Knox Hose Cart
(1912 - 1918)
(Photo from the Strain family)
A Wirt & Knox hose cart, 500' of hose, chemicals and extinguishers were purchased from the Eureka Hose Co. for $693.30. The above photo was probably taken right after the equipment was delivered.
Pre-1913 Ford Roadster
(1913 - 1918)
CLICK to enlarge for reading

In the summer of 1913, Mt. Carmel purchased a used Ford roadster for $150 to tow its 1912 hose cart. Pre-dating Whitneyville's 1915 Maxim by two years, this is the earliest known motorized vehicle of any Hamden fire company.

There are no known photos of this vehicle, so we don't know if it was an early Model T or an even earlier Ford, like the 1907 Model R roadster pictured at the left.

When new, the 1907 Model R Ford roadster cost $750. By 1913, one of these "auto cars" could be purchased used for $150.



1918 Stewart Chemical Truck
(1918 - 1930)
1930 Maxim 600 GPM Pumper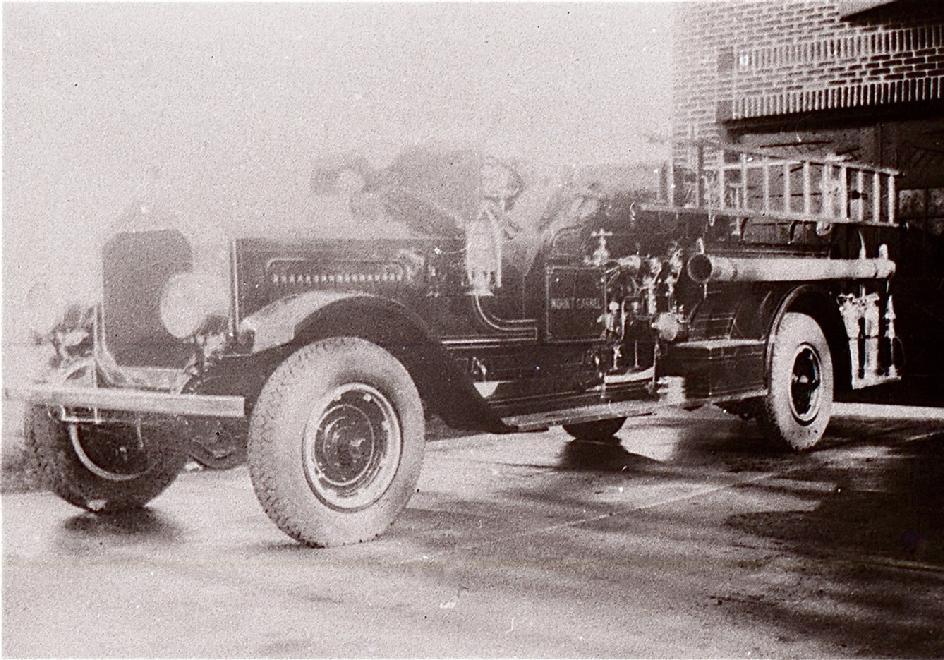 1930 Maxim 600 GPM Pumper (Photo courtesy of Gilbert Spencer)
1942 Diamond-T 600 GPM Pumper
(1953 - 1960)
1952 Maxim 750 GPM Pumper
(1960-65 and at various times thereafter until 1973)
1954 Maxim 750 GPM Pumper
(1965-1968, 1974-75, and 1976-1978)
1951 Maxim 750 GPM Pumper
(at various times between 1969 and 1974)
1965 Mack 750 GPM Pumper
(Sept. 1975 - April 1976)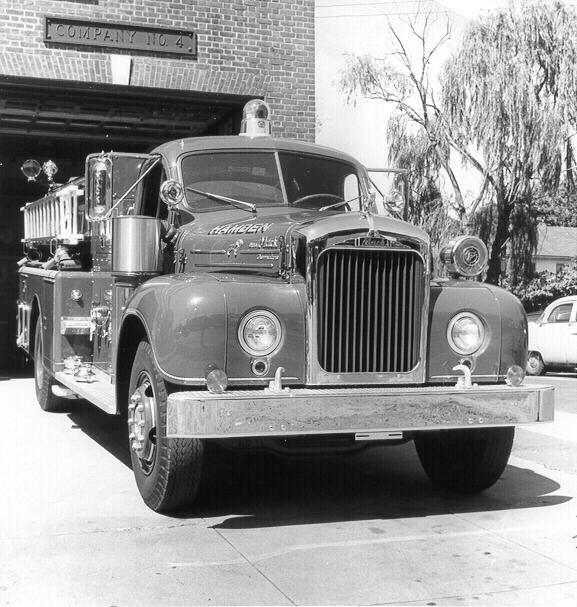 1965 Mack is pictured in front of Headquarters right after delivery
1978 Ford/Pierce 350 GPM Mini-Pumper
(1978-85)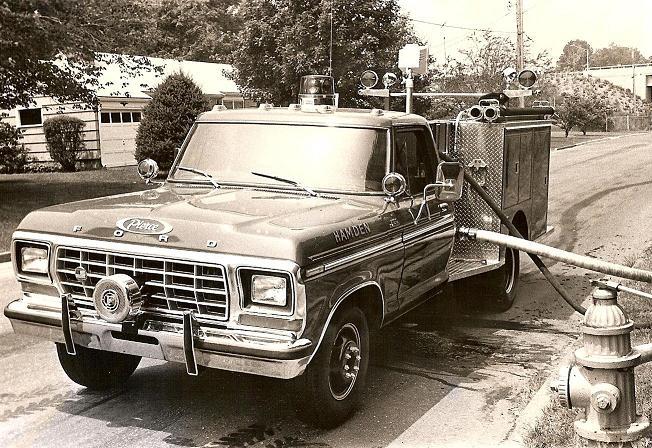 1978 - Testing pump on South New Road (Photo by Ed Doiron, Sr.)
1968 Maxim 1000 GPM Pumper
(1985-97)
This 1968 Maxim 1000 GMP was one of two identical "S" model Maxim pumpers there were delivered in October 1968. It was assigned originally as Engine 3, then Engine 2. When the twin 1984 Pierce Dash pumpers were placed in service in early 1985, this engine was reassigned to Station 5 and loaded with 1,800' of 5" LDH.
1990 Pierce 100' Aerial Quint
Truck 5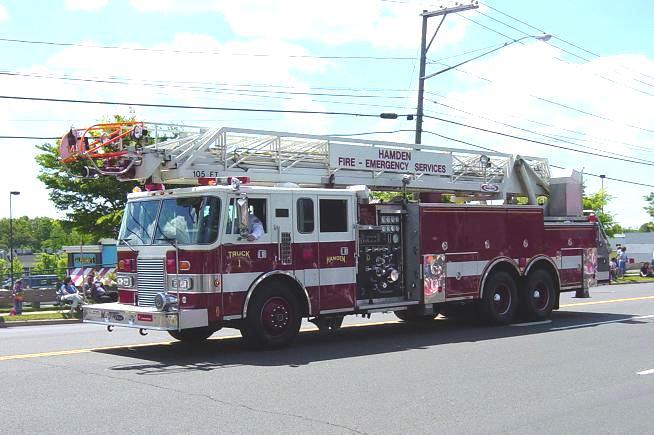 By the mid-1990s, Hamden's 1990 Pierce 100' rear-mount aerial ladder truck, a "quint," was assigned to Station 5 as "Truck 5." It responded on still alarms, too. From 1990 until 1997, it was Hamden's newest apparatus with pumping capabilities, although its tank was quite small.
1984 Pierce Dash 1000 GPM Pumper
Pictured here in August 2000, this 1984 Pierce Dash 1000 GPM pumper became Engine 5 in 1997. Previously, this pumper had been Engine 2 since new. (Photo by Chan Brainard)
COPYRIGHT NOTICE
Unless cited otherwise or in the Public Domain, all material on this website, including all original photos, essays, articles, descriptions and commentary published herein, are © Copyright 2010-21 by the Mt. Carmel Volunteer Fire Co. of Hamden, Connecticut, and may not be copied, republished or transmitted in any form whatsoever without prior written permission of same.
Web Hosting powered by Network Solutions®