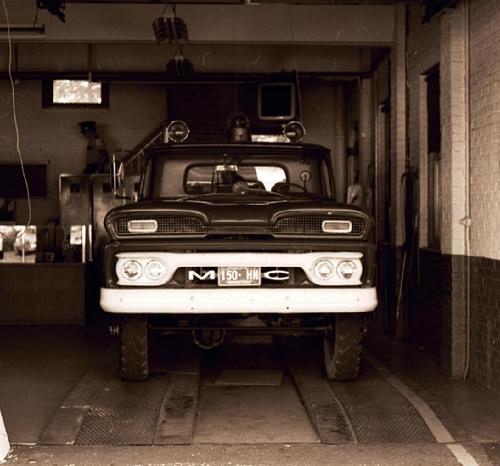 Car 55 in June 1978

Car 55

Car 55 was placed in service at Station 5 on Friday, August 22, 1969. The 1960 GMC three-quarter ton four-wheel-drive pickup truck was purchased by the volunteers earlier that year from the Town of Woodbridge Parks Department for $800.00.

Equipped with an assortment of Indian tanks, brooms, a 100' booster reel, a portable two-cycle pump and a 150 gallon tank, this "brush truck" was ideal for fighting ground cover fires where conventional apparatus could not go, especially in those areas that were accessible from the tower trail on Sleeping Giant. When the truck was being readied for service, the "G" was removed from the "GMC" logo inside the grille, leaving only the "M" and "C" (for Mount Carmel) straddling the license plate.

Don Steele drove Car 55 on its first run on February 28, 1970 - a brush fire in Brooksvale Park. Later designated as "Brush 5," the 1960 GMC brush truck remained in service well into the 1980s. This truck is presently owned by retired Dep. Chief Clark Hurlburt and is in the process of restoration.
1973 - Bob "Whitey" Williams and Eddy Doiron at the change of shifts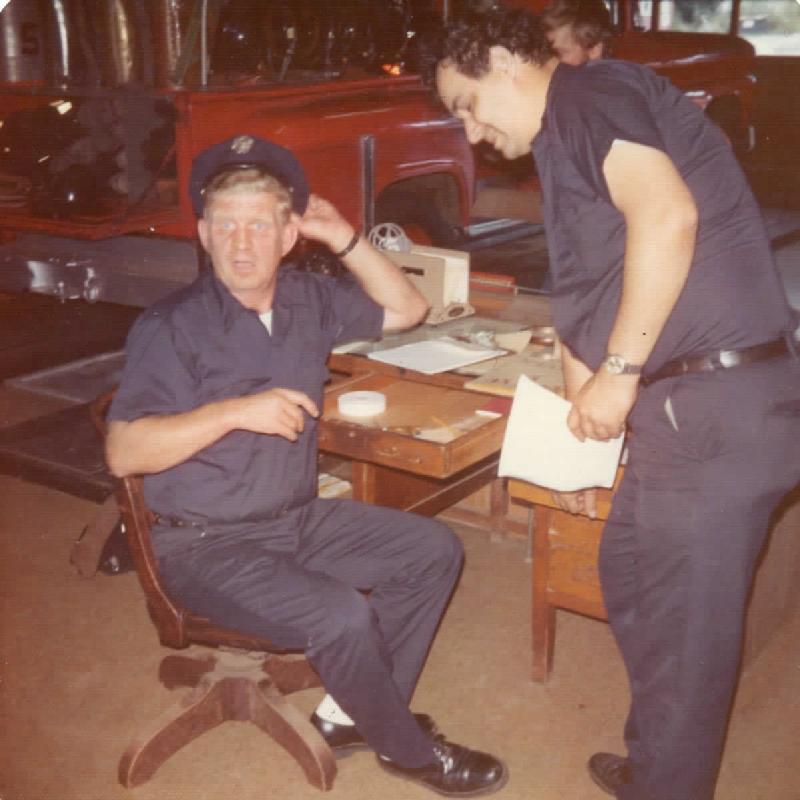 Photo by Russ Loller
Volunteer Co. 5 alumnus, Russ Loller, provided this photo of Firefighters Bob "Whitey" Williams and Ed Doiron, taken at Station 5 right after Ed was transferred in 1973 to replace newly-retired Mario "Bucky" Serafino. Whitey was either surprised by the camera, or just mugging it up for the photographer.
Whitey was on Platoon 1 and Ed was on Platoon 2. This photo was most likely snapped during the change of shift, when the 2nd was coming off nights and the 1st was starting its three days.
Notice the Gamewell telegraph take-up reel at the front of the desk and the fresh roll of ticker tape for the Gamewell tape register in the desk drawer.
On October 6, 1970, Whitey was a member of the first two-man crew assigned to Station 5 on the first day of the new 42-hour workweek. Ff. Frank Kafka was the other member of the crew.
Whitey Williams, as he was known to everyone, was on the department from September 1950 until his retirement on the first day of 1979. He passed away on December 5, 1990.


Engine 5 on videotape
Friday, March 16, 1973




This is a brief videotape recording, made on a SONY reel-to-reel B&W video tape recorder, of Engine 5 responding out of Station 5. The sound track is lost, but the video clearly shows Station 5 before the annex was built. Tony Melillo can be seen donning his bunker coat and climbing into the driver seat of the 1952 Maxim pumper.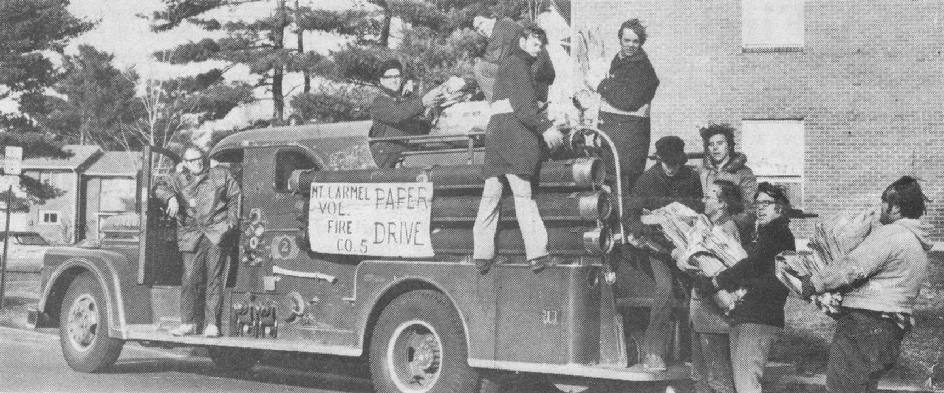 March 18, 1973 - Paper Drive - This photo was taken in the Meadowbrook Co-ops. Don Steele's 1951 Seagrave pumper, formerly of Greenwich, carried the load. Don is standing on the running board at the driver's door. Up top (L-R): Sal Giovaniello, Dave Johnson, Bill Chapman, and Russ DeAlmo. On the back step: Steve Blennerhassett and Bill Chalmers. Loading the papers: Steve Law, Bill Gee and John Blasius.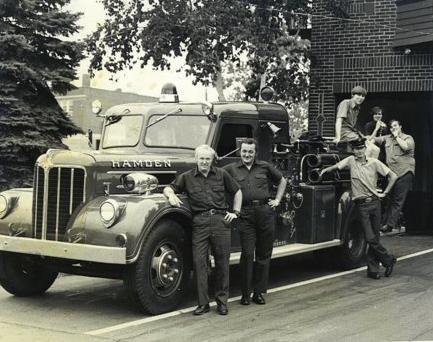 1973 - O'Hare, Mulligan & Co.

Engine 5 - 1952 Maxim 750 g.p.m. pumper


L-R (standing): John O'Hare, Joe Mulligan, and Co. 5 volunteer Steve Blennerhassett - (on truck): Co. 5 volunteers Bill Chalmers, Paul Moody and Clark Hurlburt

This 1973 photo was taken two years before the building annex was constructed on the north end of the building. In 1976, Truck 1 was relocated to Station 5, and the upstairs was renovated to accommodate the four firefighters who were assigned to Engine 5 and Truck 1.

In 1985, Station 5 became a two-man house once again when Truck 1 was moved to Station 9. Station 5 became a three-man house when an officer was assigned there in the late 1980s.

The old Mt. Carmel School can be seen in the background. It closed the year this photo was taken, and was razed in 1981 to make way for an assisted living housing project.
August 1973 - Lt. Gilbert Spencer conducted ladder training with Co. 5 volunteers at the Mt. Carmel Congregational Church at Sherman and Whitney. (Photos by Ed Doiron, Sr.)

Note that Lt. Spencer is wearing his dress blues. Until 1972, all officers and firefighters reported to work in their Class A uniforms. After roll call, firefighters got into their khaki work uniforms. When their shift was over, firefighters got back into their dress blues for inspection before being relieved. But company officers remained in their dress blues for the entire shift.

In 1972, Hamden career firefighters were issued new dark blue work uniforms to replace the khakis. Firefighters were no longer required to wear their dress uniforms to and from work. But captains and lieutenants continued to wear their dress blues as work uniforms. In 1974, captains and lieutenants were issued their own work uniforms, consisting of the same dark blue work trousers as firefighters, but with light blue work shirts. In the mid 1990s, captains were issued white work shirts.
Saturday, May 5, 1973
New Haven Fire Training School on Hamilton Street


Front row: Clark Hurlburt, Ken DeLorme, Gerry Feinberg, Gilbert Estra, Russ DeAlmo, Jim Mathis, Bill Chalmers, and Steve Blennerhassett

Back row: Don Steele, Bill Gee, Dave Johnson, Dean Smith, John Blasius, Steve Law, Paul Moody, Vic Mitchell, Russ Loller, Tony Melillo, Lt. Gil Spencer, Dave Howe. (Photo by Ed Doiron, Sr.)
Memorial Day 1973
We Got Soaked!

Several times in the 1980s and 90s, Hamden's Memorial Day parade was cancelled because of light rain. One parade, in the mid-1990s, was cancelled only because it looked like it might rain. But the Memorial Day 1973 marchers and spectators proved to be a sturdier lot. It rained like hell and the parade went off without a hitch.

Outfitted with brand new red Duckster nylon jackets, Company 5's volunteers participated as an organized marching unit for the first time in over ten years. The heavy rain did not dampen anyone's spirits. But when the parade was over the marchers discovered that the rain, filtering through their new Duckster jackets, had provided them with new pink dress shirts.
Saturday, September 8, 1973
New Haven Fire Training School on Hamilton Street


Front row: Gerry Feinberg, Clark Hurlburt, Ken DeLorme, Vic Mitchell, Jim Mathis, Bill Gee, Stanley Paul, Capt. Charles Doll (NHFD).

Back row: Russ DeAlmo, Bill Chalmers, Dean Smith, Craig Sattler, Lt. Gilbert Spencer (HFD), Steve Fletcher, Russ Loller, Dave Johnson, Jim Beirne, Paul Moody, Steve Blennerhassett, Don Steele, and Bob "Whitey" Williams (HFD). Engine 5, behind the group, was the 1952 Maxim 750 GPM pumper.(Photo by Ed Doiron, Sr.)
Ff. Eddy Doiron leaning on the left front fender of the '54 Maxim. The '78 Pierce minipumper was delivered a short time later.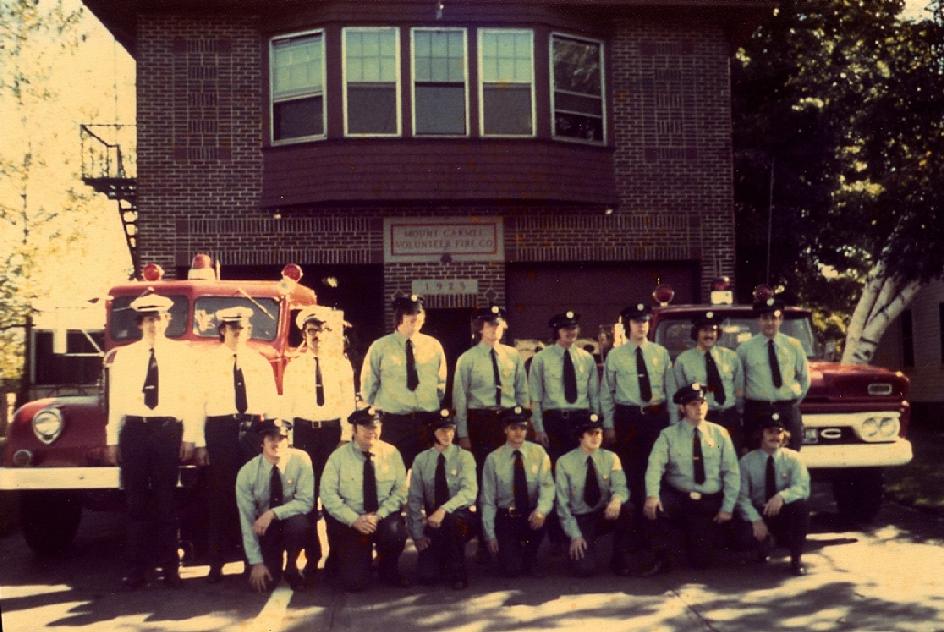 September 22, 1974 - Getting ready for the 1974 Connecticut State Firemen's Assn. convention parade at Waterbury. Front row: Vic Mitchell, Ken DeLorme, Ray Latini, Mike Defelice, Don Kehoe, Clark Hurlburt, and Russ DeAlmo. Back row: Dave Johnson, Ward Clemons, Jr., Dean Smith, Jim Beirne, Bill Gee, Paul Moody, Steve Fletcher, Tony Melillo and Ed Doiron.
Company Honors Ray Spencer's 50 Years as Firefighter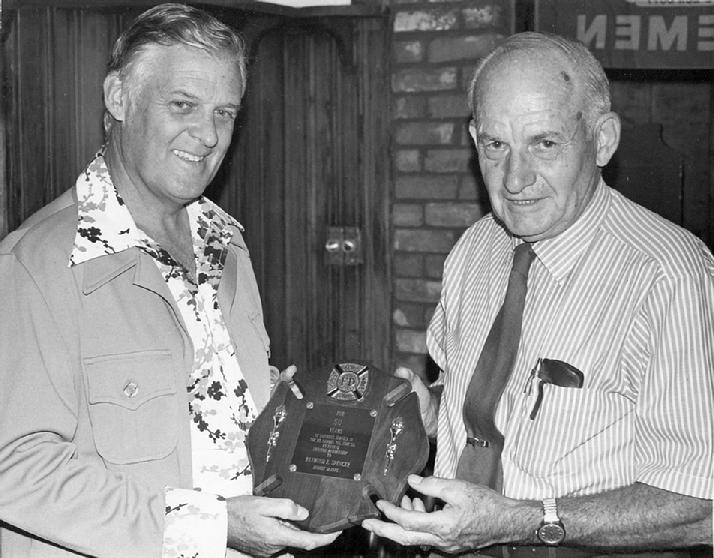 August 12, 1975 - Chief V. Paul Leddy presents President Raymond K. Spencer with a plaque honoring his 50 years as a member of the Mt. Carmel Volunteer Fire Co. (Photo by Jack Harriet)
June 14, 1975 - For the third year in a row, members of Mt. Carmel Volunteer Fire Co. 5 were invited to march in the Southern New York Volunteer Firemen's Convention Parade. The 1975 convention was held at Lynnbrook, LI.

Standing L-R: Bill Chalmers, Dave Johnson, Ed Doiron, Bill Gee, Tony Melillo, George Andrews, Joe Fitzpatrick, Don Kehoe, Karl Olson, Vic Mitchell, Jim Beirne and Tim Steele. Kneeling L-R: Stuart Estra, Steve Fletcher, Tom Stash, Gerry Feinberg, and Ray Latini. (Photo courtesy of Ed Doiron)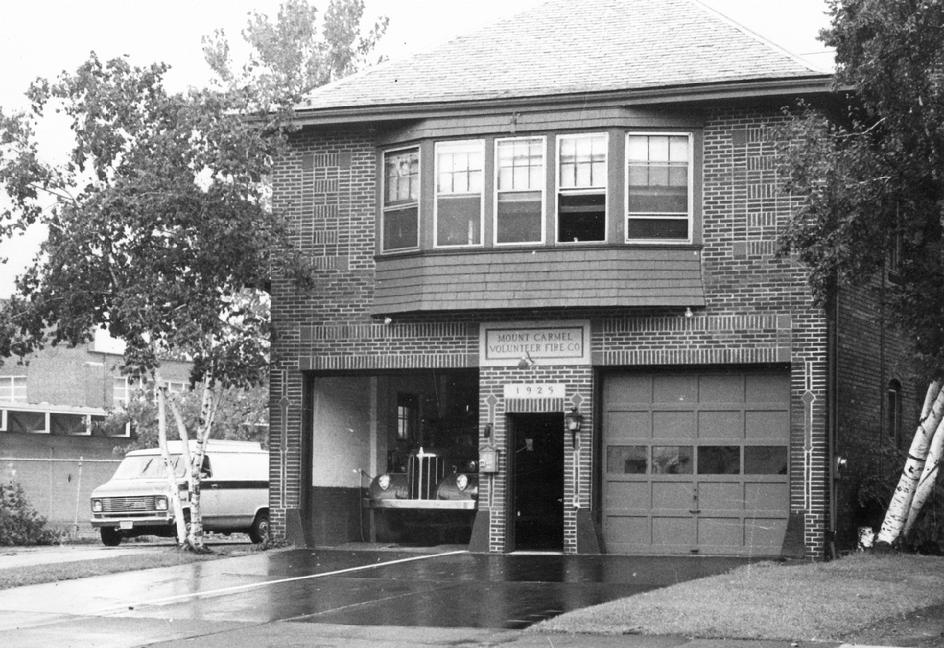 1973 - Photo by Ken DeLorme
1974-75 - Station 5 Annex
By the summer 1974, the 1939 Diamond-T pumper that had been Engine 7 was to be sold by the town. In August 1974, Co. 5's line officers approached Chief V. Paul Leddy. If Co. 5 built a simple storage garage behind Station 5 to accommodate Car 55, would the chief assign them the 1939 Diamond-T pumper?

Chief Leddy agreed, but by then the town's purchasing agent was ready to sell the pumper. The purchasing agent was reluctant to give the pumper back to the fire department, stating that it would bring "at least five hundred bucks" back to the town's treasury. Co. 5's line officers politely pointed out to the purchasing agent that their firefighters had just spent hundreds of man hours over several days assisting the career department fighting a nasty fire involving thousands of old tires on State Street. The purchasing agent had no comeback, and he released the pumper back to the fire department for eventual assignment to Volunteer Co. 5.

This started a chain of events that led to the construction of a building annex for Station 5 during the following year. Station 5's annex, paid for entirely by the volunteers, would be capable of housing Hamden's largest apparatus at the time.

On September 4, 1975, the entire annex dedication ceremony was videotaped on a B&W reel-to-reel videotape recorder. Portions of the recording have been posted on YouTube. (See the link below)

September 4, 1975
Mt. Carmel Fire Station Annex Dedication


Thirty-five years ago, the annex of Station 5 in Mt. Carmel was officially dedicated in a ceremony that featured Mayor Lucien DiMeo, Chief V. Paul Leddy and Rev. Owen Sandesron, department chaplain, as the featured speaker.

Two unrelated facts about the event stand out three and one-half decades later. First, it was the last time a completely new structure was built for the purpose of housing Hamden fire apparatus. And second, the event was video taped at a time when home video was still years in the future.

CLICK on the photo at the left to view a YouTube presentation of remarks by Chief Leddy, Mayor DiMeo and Rev. Sanderson. Several past and present members of the paid department (in 1975!) were introduced by Chief Leddy.



March 18, 1976 - Station 5 - (L-R) 1965 Mack 750 GPM, 1960 GMC brush truck, 1942 Diamond-T 600 GPM


Right after the dedication of the Station 5 annex, the 1965 Mack was transferred from Station 9 to become Engine 5. The 1954 Maxim that had been Engine 5 became Engine 9. The 1942 Diamond-T 600 g.p.m. pumper that had been Engine 5 in the 1950s became Volunteer Co. 5's first full-size pumper in decades, although it was never activated.

On April 9, 1976, less than a month after this photo was taken, Truck 1 was reassigned to the new annex at Station 5. The Mack returned to Station 9, and the 1954 Maxim returned to Station 5 as Engine 5. Car 55 moved back to the south bay. And the 1942 Diamond-T went back into storage at Station 9. The 1939 and 1942 Diamond-T pumpers were both sold to the highest bidder on February 4, 1977.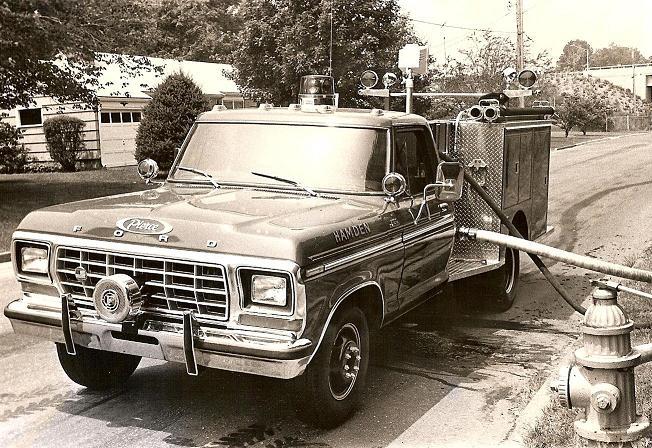 Brand new 1978 Ford Pierce mini-pumper on South New Road. It started out as Engine 5 and is now assigned to Volunteer Co. 5.
COPYRIGHT NOTICE
Unless cited otherwise or in the Public Domain, all material on this website, including all original photos, essays, articles, descriptions and commentary published herein, are © Copyright 2010-21 by the Mt. Carmel Volunteer Fire Co. of Hamden, Connecticut, and may not be copied, republished or transmitted in any form whatsoever without prior written permission of same.
Web Hosting powered by Network Solutions®