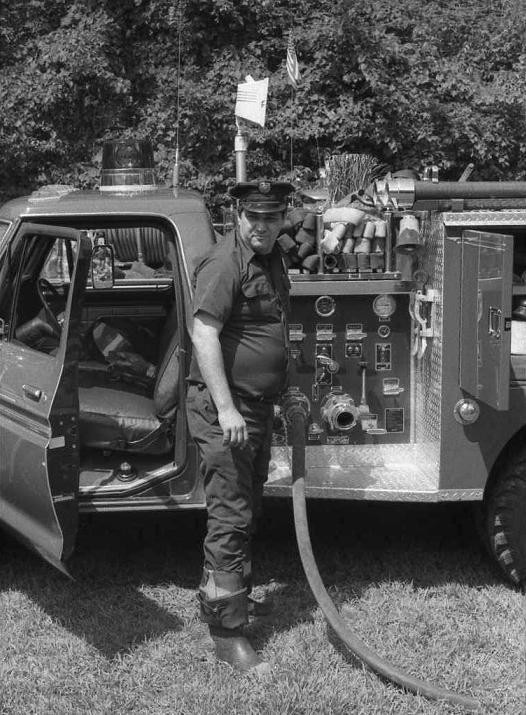 September 1980 - Ed Doiron pumping with the 1978 Ford Pierce mini-pumper.
This 1958 Maxim 75' "Junior" aerial truck was stationed at Mt. Carmel from April 9, 1976, when it was transferred from Station 2, until November 3, 1984, when it was transferred to Station 9. Firefighter Ernie Braun was the driver during both moves.
25 Years Ago
Bassett's Service Station
3050 Whitney Avenue
On Wednesday, September 9, 1987, a mechanic operating a torch underneath an automobile on the lift accidentally ignited a gasoline fire in Bassett's Service Station at 3050 Whitney Avenue. The building was fully involved within seconds. Miraclulously, no one was injured.
Engine 5 was on the scene within a minute, laying a supply line from the hydrant at Whitney and Woodruff. With the vacated service station fully involved, the two firefighters of Engine 5 wisely directed a stream from a 2 1/2" line to protect the closest exposure, Harrison's Ace Hardware, until other apparatus arrived.
The photo above was shot just as an attack line from Engine 4 was being stretched to extinguish the fire inside the garage and office areas. Engine 9 can be seen coming down Whitney just north of Home Place. The LDH would be connected and charged within a minute or two.
COPYRIGHT NOTICE
Unless cited otherwise or in the Public Domain, all material on this website, including all original photos, essays, articles, descriptions and commentary published herein, are © Copyright 2010-21 by the Mt. Carmel Volunteer Fire Co. of Hamden, Connecticut, and may not be copied, republished or transmitted in any form whatsoever without prior written permission of same.
Web Hosting powered by Network Solutions®